Configuration Example, Security
Creating a web server certificate request is very easy when using a Windows CA server. There is one disadvantage. The requested certificate is directly stored in the user store (by default) or the local computer store, if specified during the request. The disadvantage is that you cannot export the requested certificate including the private keys. During the request the option to Mark keys as exportable is grayed out.
There is a way to mark the keys as exportable when using a Windows CA server. You need to create a new Web Server Certificate template. You can use the existing Web Server Certificate Template as default and copy the current settings. To do so, you just:
run certtmpl.msc, which will open the Certificate Template snap-in;
click the Web Server certificate template;
choose Action – Duplicate Template;
configure a unique template name;
choose the tab Request Handling;
enable the option Allow private key to be exported;
That is all you need to do. You can now request a new certificate with the newly create certificate template. After the certificate is issued and installed on the user or local computer store, you can export the certificate including the private key.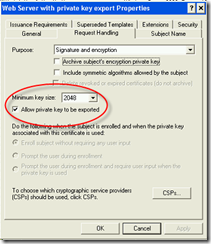 The following two tabs change content below.
René Jorissen works as Solution Specialist for 4IP in the Netherlands. Network Infrastructures are the primary focus. René works with equipment of multiple vendors, like Cisco, Aruba Networks, FortiNet, HP Networking, Juniper Networks, RSA SecurID, AeroHive, Microsoft and many more. René is Aruba Certified Edge Expert (ACEX #26), Aruba Certified Mobility Expert (ACMX #438), Aruba Certified ClearPass Expert (ACCX #725), Aruba Certified Design Expert (ACDX #760), CCNP R&S, FCNSP and Certified Ethical Hacker (CEF) certified. You can follow René on
Twitter
and
LinkedIn
.
Latest posts by René Jorissen (see all)